Wayang Wahyu
Wayang Wahyu is one of Javanese leather puppets that raised stories from Catholic bible. Wayang Wahyu was created in order to spread the Catholic religion. The story is based on the Old Testament which tells the stories of the time of the Prophets related to the Gospels, and continued with the stories in the New Testament that have a function for the education of Catholics.

The history of Wayang Wahyu originated from the idea of an FIC Broeder named Timotheus L. Wignyosoebroto, FIC. February 2nd, 1960 became the beginning of the birth of Wayang Wahyu in Surakarta, Central Java. Then this puppet shadows known as the Catholic Wayang. Archbishop of Semarang at that time, Mgr. Albertus Soegijapranata SJ, denied this name, because this can emerge exclusive impression. The name of Wahyu (Revelation) was chosen with the consideration of the play presented are stories from the Bible, to convey the word and revelation of God.

In 1975 the management of Wayang Wahyu was established in the form of a foundation. The decree was inaugurated through the founding deed of Wayang Wahyu Foundation dated November 11th, 1975. Then the identity of this new puppet shadow Foundation in Surakarta was called "Wayang Wahyu Ngajab Rahayu". "Ngajab Rahayu" means expecting for salvation. In 1995 the  the management of Wayang Wahyu was transferred to the Pangudi Luhur Foundation. Until now, Wayang Wahyu Ngajab Rahayu still actively perform and work.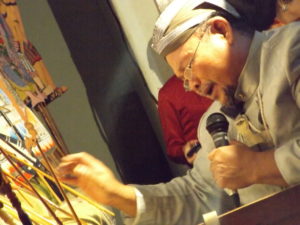 ***